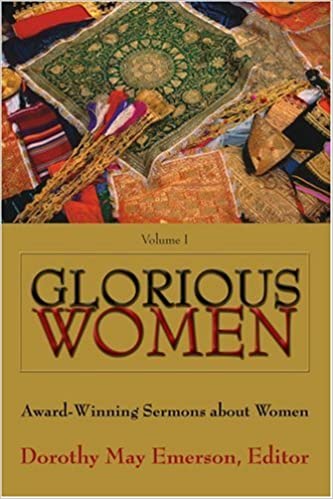 Award-Winning Sermons about Women -- edited by Rev. Dorothy Emerson
Glorious Women is a compilation of sermons that have won the Ministerial Sisterhood UU Sermon Award. The book was edited by Dorothy Emerson and includes her account of the amazing growth of women in UU ministry from the early 1980s through 2004. The sermons are filled with insight to inspire the translation of faith into action and the living of more authentic lives.
Glorious Women is a unique chronicle of women's changing lives and concerns, told through sixteen award-winning sermons. It is also the story of women in ministry and their rise from a tiny minority to over half of the Unitarian Universalist ministers in only twenty-five years. The sermons in this collection speak to the central issues of our times, issues that concern both women and men. Often drawing on historical women's lives and words for inspiration, thirteen women and three men explore the challenges of living lives of integrity and faith in today's world. By sharing their insight and wisdom, these authors encourage all who share their words to live more authentic lives and do what they can to work for a more just world.
$17.95 BUY from UUWR
Or buy from iUniverse (also available in hardcover and e-book)
Review from Marni Harmony, Minister, First Unitarian Church of Orlando, Florida, and Founding Member of MSUU:
The three decades since the founding of MSUU (Ministerial Sisterhood Unitarian Universalist) have seen not only a remarkable increase in the percentage of women in professional ministry but an equally remarkable transformation of the nature of ministry itself. Reading these sermons affords an opportunity to see what's been on women's (and men's) minds and how these concerns have contributed to the changes!
MSUU, the Ministerial Sisterhood Unitarian Universalist, was an organization founded in 1974 to support women in ministry. Ten years later they created a sermon contest to inspire preaching about women and women's issues. In her ministry, Editor Dorothy May Emerson sought to empower groups and individuals to actualize their dreams. By editing Glorious Women, she helped MSUU tell its story and share these award-winning sermons with the world.